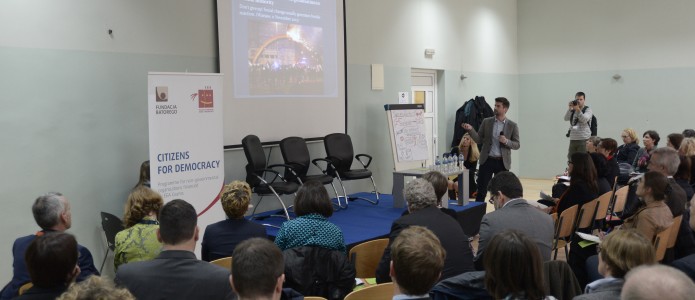 The Stefan Batory Foundation in cooperation with the Mama Cash from Netherland held a session on discrimination during the Conference of the European Foundation Centre in Sarajevo on May 15th, 2014.
With the influx of migrants and refugees and increased mobility within the Schengen zone, Europe is becoming more and more diverse. Yet, Europe is relatively unprepared for multi-cultural, multi-racial, multi-ethnic and multi-religious societies. Minority and majority encounters often end in clashes and conflicts due to mutual prejudice and ignorance and genuine social problems connected with the arrival of "others" in a previously homogenous community. The global economic crisis is also increasing social tensions and inequalities, triggering anti-immigrant sentiment and fuelling political extremism and populism.
During the session, speakers discussed the role and responsibility of funders in the promotion of tolerance and diversity and the counteracting of prejudices across Europe. Krzysztof Śmiszek from the Polish Society of Anti-Discrimination Law shared the experiences of the effective strategies in combating stereotypes concerning LGBT community in Poland. Fiona Montagud O'Curry from Calala Women's Fund presented how the supporting organizations led by migrant women can be an effective way to address discrimination and prejudice in Spain. Valentina Pertus from Open Society Foundation in Bratislava talked about the situation of Roma people in Slovakia.
The audience of the panel had an opportunity to listen successful solutions which helped to positively influence the social perception of minority groups and encourage their emancipation.
The session was organized within the Citizens for Democracy programme financed by the EEA Grants.