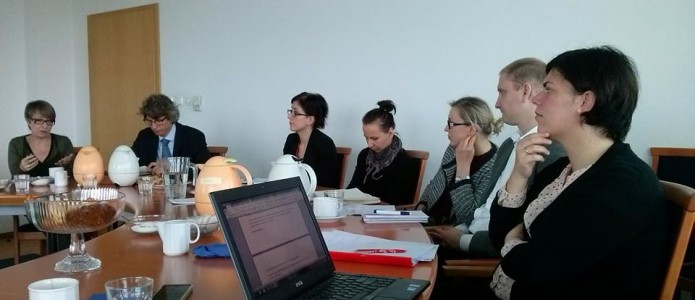 Annual Review Meeting of the Citizens for Democracy programme was held in Warsaw October 8 and 9.
The Financial Mechanism Office (FMO) in Brussels was represented by: Catherine McSweeney – Civil Society Department Coordinator, Anita Klecha – Financial Department, Reka Kenesei – Legal Department and Morten Magnem – communication officer.
The first part of the meeting was attended not only by the whole team of the Citizens for Democracy, but also by Stein Nesvåg from the Embassy of Norway and Urszula Demidziuk, Anna Cieśla and Maciej Gałaj from the Ministry of Infrastructure and Development.
The meeting started with the presentation of the programme's development and brief summary of the past year. In the afternoon the representatives of the FMO and the Ministry met the staff and volunteers of the Project: Polska Association and learnt more about the HejtStop project which is being implemented within the Counteracting Exclusion thematic area.
Thursday our guests visited other Project Promoters. The Association of the Creative Initiatives "ę" talked about the activities including seniors into active social life  (Project: Zoom in on Senior Councils). In the Ocalenie Foundation they learnt about the project Programme for the Prevention of the Discrimination of Foreigners. Mortem Magnem, communication specialist of the FMO, visited also the Feminoteka Foundation, which implements the project This Is Not Your Fault. Stop Violence Against Women.
The next this kind of meeting will take place next year. It will give us opportunity to share with our guests the full range of the projects implemented within all three calls for proposals.
Meanwhile we would like to remind that the 3rd call for proposals closes with the October 15, 2014.