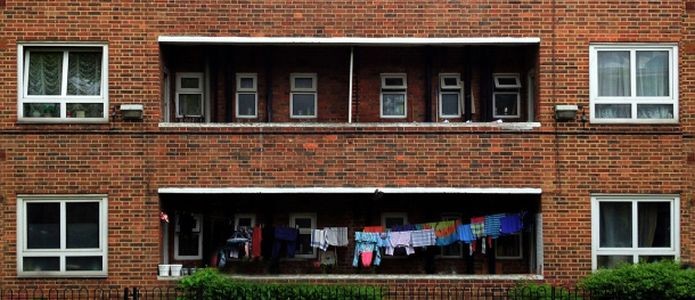 It's simply inhumane that in XXI century people who are sick have to live on the streets even though we have tools to provide them professional and effective assistance – says Julia Wygnańska, project coordinator.
The first time I've heard about the Housing First programme, I thought – what? They're going to give away the apartments to the homeless for free? But after the second glance it becomes clear that it's not exactly how it seems like – so the question is: who can be a beneficiary of this programme and what is it all about?
Talking about the Housing First project we think about very specific group of people. The idea behind is not to give the apartment to every homeless person or to any person in a difficult situation. This is a professional service addressed to the specific group of people affected with chronic homelessness and dual diagnosis – it means they've been living on the street for over a year and demonstrate some kind of psychiatric disabilities and addiction. According to the records of some of the Warsaw organizations, we have quite a numerous group of this kind of people in the city.
But since they've been living in the city area for years and they've been recognized by social services and organizations, why are they still on the street?
There's been a common opinion in the society that they are "hard to serve" type of people, which would mean they don't really want to be helped. But our experiences and the programme we are talking about show that the support they were offered was simply not the one they actually needed. Housing First programme was created in the early 90s by the clinical psychiatrist Sam Tsemberis. After a while it appeared to be very effective in regard to this particular group of people – with chronic homelessness and dual diagnosis. After 2 years, around 80% of people became self supported. Those results were outstanding.
What is the key to success?
Standard work with homeless person is based on the contract. A social worker agrees to provide food and accommodation in a shelter and to help with the paper work. A homeless person is obliged to stop drinking, improve relations with family and society and obey a set of rules and regulations. If he succeeds, he can climb up this ladder of systemic support, from dormitory, through the common room in a shelter, to training apartment and one day finally to his own place. But if he fails, he gets back on the street. This kind of arrangement is very uneven. It forces people to make a huge changes in their lives in exchange for a bed and a piece of blanket. Housing First programme turns it all around, because in case of this particular group of people we are talking about here this kind of motivation is not effective at all.
So what should be our approach?
You need to assure them basic sense of security. You do it, providing them with an apartment. It gives this strong, motivational shot that generates the will to act and really do something with their lives, that motivates them to start putting things in order and move forward. Once they are in housing, the work begins but it's based on different rules than in case of classic social care. Instead of one social worker, we have an Assertive Community Treatment Team which is formed with a psychiatrist, psychiatric nurse, physician, psychologist, therapist and social worker as a support. First of all, there is no drinking prohibition. Addictions treatment is based on damage control model, which means that you show a person damaging consequences of addiction but you don't forbid drinking. Second, you make this basic assumption that people in the programme are able to set goals of their therapy on their own. Third, consumer's choice. Decisions of the person are fully respected, the team works on them, presents different options, alternatives, but the person makes the final call.
But does it mean, that the person can enter into the programme with no preconditions?
The programme is called Housing First and housing is granted to the person at the very beginning unconditionally. But unconditionally when it comes to progresses in therapy. The client need to meet 3 basic conditions to participate in the programme: sign up for therapy, pay his share of the rent and live by the common social rules. Therapy sessions once a week are forced by the contract, but clients start to involve more quite soon and they ask for more sessions then the contract minimum.
The programme was created in the United States and appeared to be successful. But is it relevant in polish reality?
That's what we want to check with this project. The US research described 3 types of using the social services for homeless people: episodic – when the person gets on the street just once, transitional – when the person has a couple of episodes of homelessness and chronic.
Data analysis proved, that chronically homeless people, even though they are only 5% of all social services beneficiaries, generate half of all costs of shelters system. And if you consider a group of people chronically homeless staying on the street but still using the services provided by different social institutions it appears, that costs of living on the street are equal or higher than costs of the Housing First programme, including hiring apartment and paying the team of professionals. If you are on the street, you don't visit a family doctor which is cheaper but you are being taken to the Emergency when you are really in a bad condition. You don't attend addiction therapy but you are being taken to detox centers. You don't pay child support because you don't work with a financial councilor who can help you break down the payments into manageable installments, instead your debt is growing, finally your case gets to court and you end up in jail as you cannot pay the fee. After going out of jail, you are back on the street or in a social care center. And the work of all these institutions is expensive.
So this programme is a chance not only to bring people out of homelessness but also to lower the costs of the current social care system.
Yes, and the results are incomparable, because in the standard social support system those people were still living on the streets . And it generates additional costs, which we will try to calculate. The Housing First is not a cheap programme. But this is the programme that can be less eIxpensive and most of all more effective that what have been done for this group of people till now. It's simply inhumane that in XXI century people who are sick have to live on the streets even though we have tools to provide them professional and effective assistance.
About the project:  
The Housing First project offers sustainable evidenced-based advocacy for a change in attitudes towards support systems for severely excluded people who live 'in the streets' and do not use any social services. This will create a foundation for implementing innovative 'Housing First' programmes successfully realized in the US and several EU Member States. The program was invented by S. Tsemberis from Pathways to Housing, N.Y.C., US.
The project has been implemented by the Ius Medicinae Foundation in cooperation with The Camillian Mission for Social Assistance and Salvation Army in Iceland.