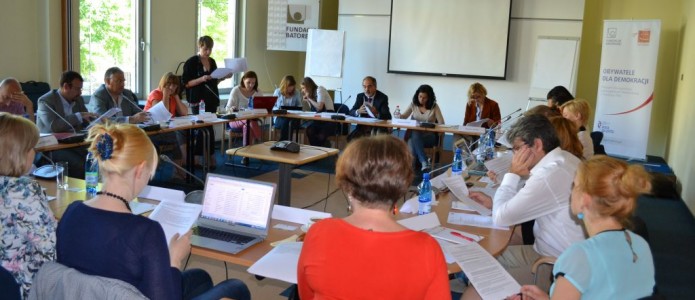 Today the Batory Foundation hosted the international meeting of the NGO funds programmes Operators financed by the EEA Grants.
The meeting was attended by the representatives of 13 programme Operators from Bulgaria, Cyprus, Estonia, Greece, Hungary, Latvia, Lithuania, Poland, Portugal, Romania, Slovakia, Slovenia and Spain and representatives of the CREDA Consulting watching over the evaluation process of the entire programme.
Everyone followed the recent events in Hungary and very difficult situation of the local NGOs, therefore the firs speaker was Vera Mora from the Ökotárs Foundation from Budapest. Then the discussions were focused on summaries and exchange of experiences about the implementation of the programmes for NGOs financed by the EEA Grants in different countries. The attendees pointed out the positive elements of the current organisational set-up and talked about the recommendations for the future to make the next programmes more effective.