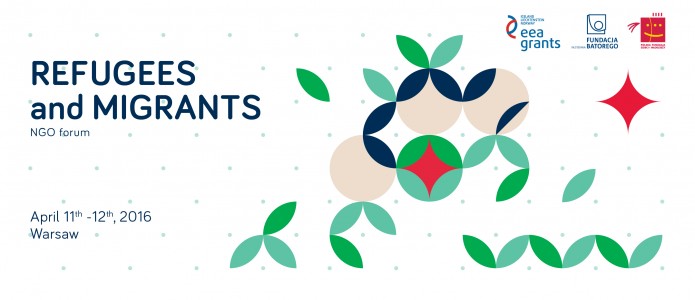 We invite you to take part in upcoming Forum that will be focused on topics realted to migrants and refugees integration. It will take place on 11th-12 of April in Zygmunt Hübner Powszechny Theatre in Warsaw.
The Forum targets representatives of non-governmental organisations and informal groups working to support the integration of refugees and migrants: the knowledgeable and experienced and those who are less experienced in this field. The representatives of public institutions are welcome as well, especially local governments co-operating with non-governmental organisations in the area of refugee and migrant integration.

We wish for the Forum to become a place where individuals, who face the challenges of working to support refugees and migrants in practice, can meet and develop a community. We hope that over the next two days, we will be able to create space for inspiring conversations, and for an exchange of knowledge and experience – about what works and what doesn't, what we are proud of and what has failed, what challenges we usually encounter in our work and how we can try to overcome them. We wish to indirectly contribute to an improvement in the quality of work integrating refugees and migrants, to consolidate the community of organisations active in the area: organisations supporting one another in professional efforts and motivating one another to further work.
Registration will be closed on 25th of March at 12.00 pm (noon). confirmation will be sent on 25th of March.
FRAMEWORK AGENDA

DAY I / April 11th, Monday
DAY II / April 12, Tuesday
9.00-10.00 registration
10.00-10.45 opening
10.45-11.00 coffee break
11.00-12.30 parallel sessions – block one
12.30-13.30 lunch
13.30-16.00 parallel sessions – block two
16.00-16.30 coffee break
16.30-18.00 parallel sessions – block IV
18.00-19.00 dinner19.00 theatre performance
09.00-10.00 breakfast sessions
10.00-11.30 parallel sessions – block one
11.30-12.00 break
12.00-13.30 parallel sessions – block two
13.30-14.00 lunch
14.00-15.30 parallel sessions – block three
15.30-16.30 evaluation and closing
Full _programme
Travel costs, accomodation and meals will be covered by the Organisers
DETAILED PRACTICAL INFORMATION
>>DOWNLOAD PRACTICAL INFORMATION
The "Refugees and Migrants. NGO Forum" is organised by the Batory Foundation as part of Citizens for Democracy programme financed by the EEA Grants.