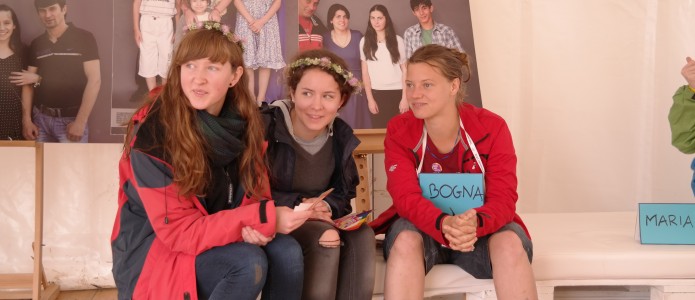 Despite the weather there was no reason to complain about the frequency in the "No-hate House". Once again it has showed up that NGOs are warmly welcomed at Woodstock Festival.
Thirteen organisations gathered under the same roof. Among them were:  Batory Foundation, For the Earth Association, Lambda Warsaw Associtation, Feminoteka Foundation, Ocalenie Foundation, Group of Sex Educators Ponton, Tourette Syndrom Association of Poland, Foundation for Freedom/Ethnoleague, Hejtstop, Campaign Against Homophobia (KPH), Association for LGBT Tolerado, Fairtrade Coalition and Buy Responsibly Foundation.
Ponton and Lambda were talking about preventing sexually transmitted infections (STI) and counteracting sexual violence. They taught that there is no unsafe sex but rather risky and irresponsible behaviours. Ethnoligue was asking diffiucult questions about sport and football history and fair play rules, for winners offering t-shirts. There was always big crowd at Feminoteka stand, that repaired feministic stickers, tattoos and colouring pages. Participants together made Girl Power Board where they wrote what makes them feel strong and worthy. Also KPGH, Lambda and Tolerado stands attracted big group of supporters. All the organisations was answering all the questions asked. Fairtrade Poland and Buy Responsibly were the last that leave the tent on saturday, some of the member een with the voice problems. aLthough it showed up that festival participants wanted to know everything about fairtrade and responsible consumption.
For the second time stand-up about Tourette Syndrome gathered big audience. Bartek Wojtkowski with a great sense of humour was talking about how is it to live with that disease, what are the problems and funny situations that he faces. He also showed big unawareness of that disease and its symptoms in Poland.
Ocalenie Foundation led role playing game. Players personated members of family that was forced to escape from their country.
Days started with common playing of ethnic music and finished with reading equality bedtime stories that was always gathering a group of fans. Everyone who visited our No-hate House could make a picture in a photo booth.
Thank you all for being with us and for wonderful atmosphere. Hope to see you next year!
See the "No-hate House" gallery: